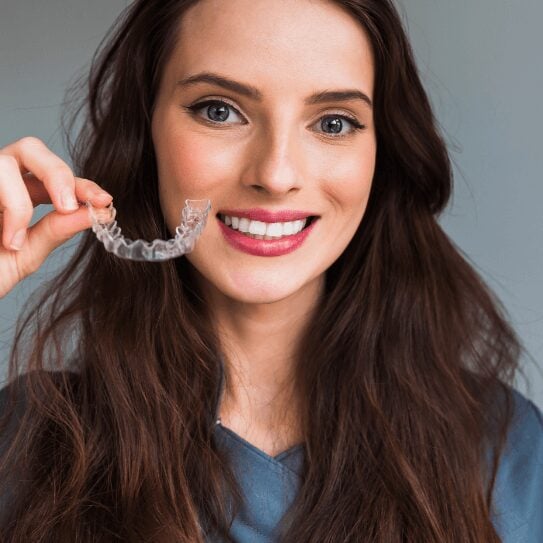 The Benefits of Invisalign in Bristol, VT
If spending a couple of years with a mouthful of metal is not your ideal for getting straight teeth, then choose Invisalign clear braces. Invisalign's cutting-edge aligning technology at Bristol Park Dental in Bristol, Vermont, uses a series of aligners to fix your smile's imperfections. 
Read our five reasons you may choose Invisalign treatment over traditional braces.
#1 Easy to Clean
Wearing braces makes it complicated to give your teeth good brushing and flossing. Food gets lodged into hard-to-reach areas, leading to plaque and tartar buildup around the brackets and wires.
Invisalign aligners are completely removable and easier to clean properly. You can keep your original oral hygiene routine, protecting your oral health over the treatment time.
However, wearing Invisalign clear aligners doesn't mean you don't have to invest time in your dental health. Bacteria can get trapped inside the trays too. The only way to prevent decay is to brush and floss each time before putting in your aligners.
#2 No Banned Foods
With traditional braces, you must follow a restricted diet to avoid damaging the metalwork. Several foods on this prohibited list are favorites like chewing gum, chewy or sticky foods, and even popcorn. Unfortunately, patients sometimes ignore this and damage their braces, which, in turn, lengthens the treatment time.
If you choose Invisalign, before eating and drinking, you can remove your aligners, keeping them from getting damaged. Brush and rinse your teeth after each meal to avoid food stains. Remember that the wear time of aligners is at least 22 hours a day.
#3 Comfort
Aligners are more comfortable than orthodontic braces for two important reasons:
No Sharp Edges: Metal braces tend to have poking wires that irritate your cheeks.

No Need for Tightening: Braces need monthly adjustments and tightening by your orthodontist. With Invisalign, you only need to change sets of aligners every two to three weeks. 
During the first few days of wearing Invisalign, you will feel pressure on your teeth. Please don't worry; this slight pressure moves the teeth bit by bit and signifies that your aligners are doing their job. 
#4 Virtually Invisible
Most people with crooked teeth avoid getting traditional orthodontic treatment because they don't want to sacrifice a few years with all that metal on their teeth. 
Invisalign aligns your teeth just like braces, but without being noticeable. The plastic aligners are practically invisible. Most adults and professionals feel more comfortable choosing Invisalign because they are subtle.
#5 No Discoloration
Some patients with braces experience a slight discoloration on their teeth where traditional metal brackets are glued. You can avoid it altogether with a clear aligner treatment plan because they are removable. 
Don't get us wrong, traditional braces have advantages and can fix many dental problems. Call our dental practice to schedule an initial consultation to discuss treatment options and the cost of Invisalign. We'll talk about the best treatment for your tooth movement and your future with a beautiful smile.